I think I've finally put my finger on what my problem is. A part of me is definitely excited, more excited than ever really, but right now I'm mostly feeling anxious and agitated and I think I can articulate why.

Because everything has changed and nothing has changed.

Everything has changed because our paperwork is finally finished and has been mailed off. But it's been mailed off to a faceless stranger that I have only exchanged a handful of emails with, each of them rarely more than a dozen words or so. This process is so impersonal. If I don't email someone with a question, no one contacts me. So while technically we are on to the next phase, it feels like nothing has changed. It doesn't feel real yet. Yes, there's more lists of things to do and get, but it's all still just more paperwork. I think that's why I got frustrated over reading the materials from our agency. I think that's why I really can't do any major shopping yet. I think that's why I looked at my MIL like she was crazy when she said she wanted to throw a shower soon. It's not really real yet. And it won't be real until I get the call. Whoa momma am I going to be one sloppy sodden weepy mess on that day. (Oh and for those of you that asked, we certainly do plan to bring a laptop to Colombia. I dragged you this far, you've got to see this whole mess til the end).

Anyway, just wanted to let that particular swirling crazy out of my head. One down, eleventy million to go. On to fun stuff...

DH and I went to the bookstore this weekend...something we do quite often. This time we decided to venture into the Parenting section. We started to look at "What to Expect the First Year" and "Parenting for Dummies" and all those kinds of things…then we both quickly got turned off by all the pregnancy stuff in them (sorry breeders, it's still touchy for me) and ditched that idea for the baby name books. After laughing at that a while (why can't they make a book called "101 Names you would actually consider naming your child") we decided we'll borrow some books from relatives and learn the rest on our own. Then I got up the guts to enter the children's area, averting making eye contact with anyone lest they realize I am a fraud with no children and shouldn't be in there (ha just kidding)...and we bought these: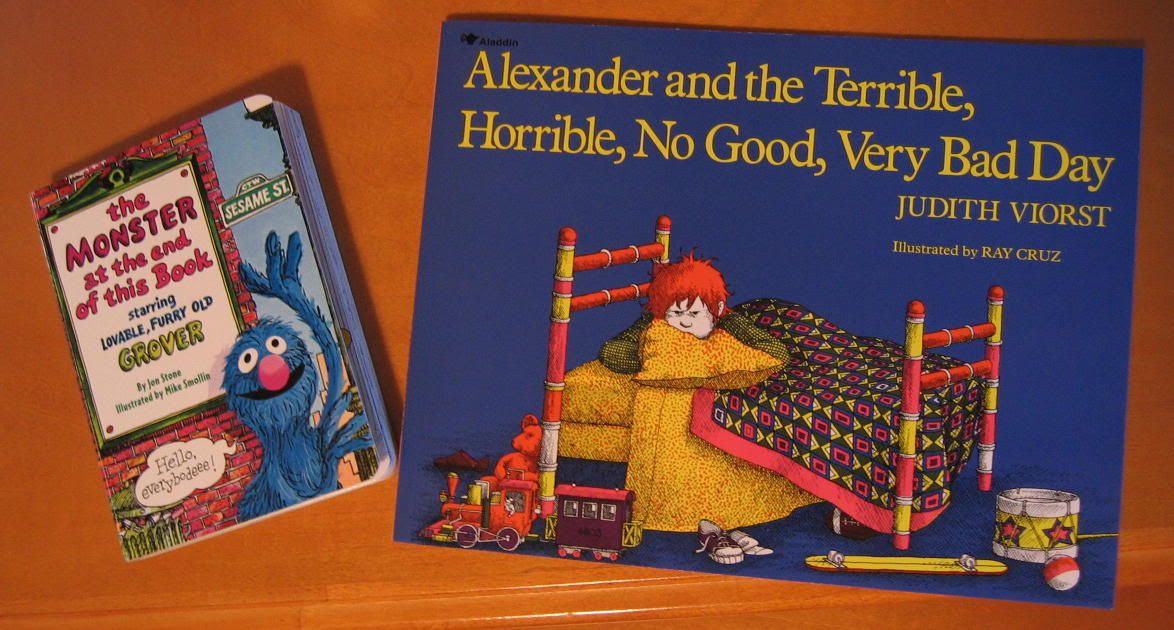 I read them to DH in the car on the way home. I was cracking up. Of course the Monster book is my favorite, and the Very Bad Day book is DH's favorite. Although it will be a long time before our little one can read, it was nice to know we had them. Also in my travels this weekend I bought a very pretty baby picture frame. Slowly but surely I guess. Oh and I've been browsing this site...check out the prices on this stuff!! Crazy or what? I sent it to my mom and told her that's where I'm going to register. I won't tell you what she said in response.

On Saturday I got hornswaggled into going with my husband's fsurf fishing club to a "family barbecue". Although my husband was told that wives and kids would be going, when we got to the parking lot to meet everyone it was me and 5 other guys. That's it. O-Kay!! And I didn't even bring my knitting because I didn't want DH to get mad at me for being all anti-social. But it ended up being fine...it was the maiden voyage of driving our new truck on the beach. Thankfully everything went well or DH would have been putting a big ass FOR SALE sign on it the next morning. It was very cool to pull the truck up close to the shore and hang out. We barbecued a little and the guys did some fishing (fish count = zero), we saw a great sunset and an even cooler moonrise (huge red moon).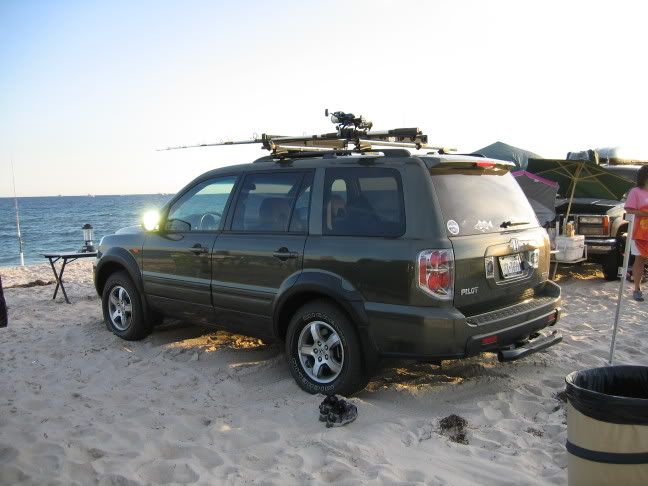 That's me in the pink.



On Sunday we visited the in-laws. My SIL was there recovering from shoulder surgery. Dont even get me started.....